A vibe you

can't describe
What's it all about eh? We've always been a fun run that's not about winning or running, what started out as a one day event in Melbourne has expanded to all around the world as Connor's Run Your Way Any Day!
Run, walk, roll, hop, skip, jump or dance as much as you want in September 2023. Do it once, do it every day, just do it your way! Create your own vibe and all we ask is to make sure it's more fun than run.
Everyone who registers for Connor's Run Melbourne, Sunday September 10, will also get access to Your Way Any Day, so make sure you share your month of Connor's Run with us on socials #connorsrun @rcdfoundation
As far as your
heart

desires or your

brain

will let you
2013
1500 participants raised
$115,000
2014
2000 participants raised
$250,000
2015
2500 participants raised
$400,000
2016
3600 participants raised
$600,000
2017
4000 participants raised
$782,000
2018
4500 participants raised
$1,000,000
2019
4500 participants raised
$1,200,000
2020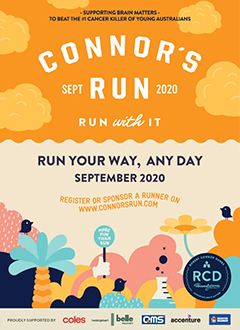 4000 participants raised
$1,375,000
2021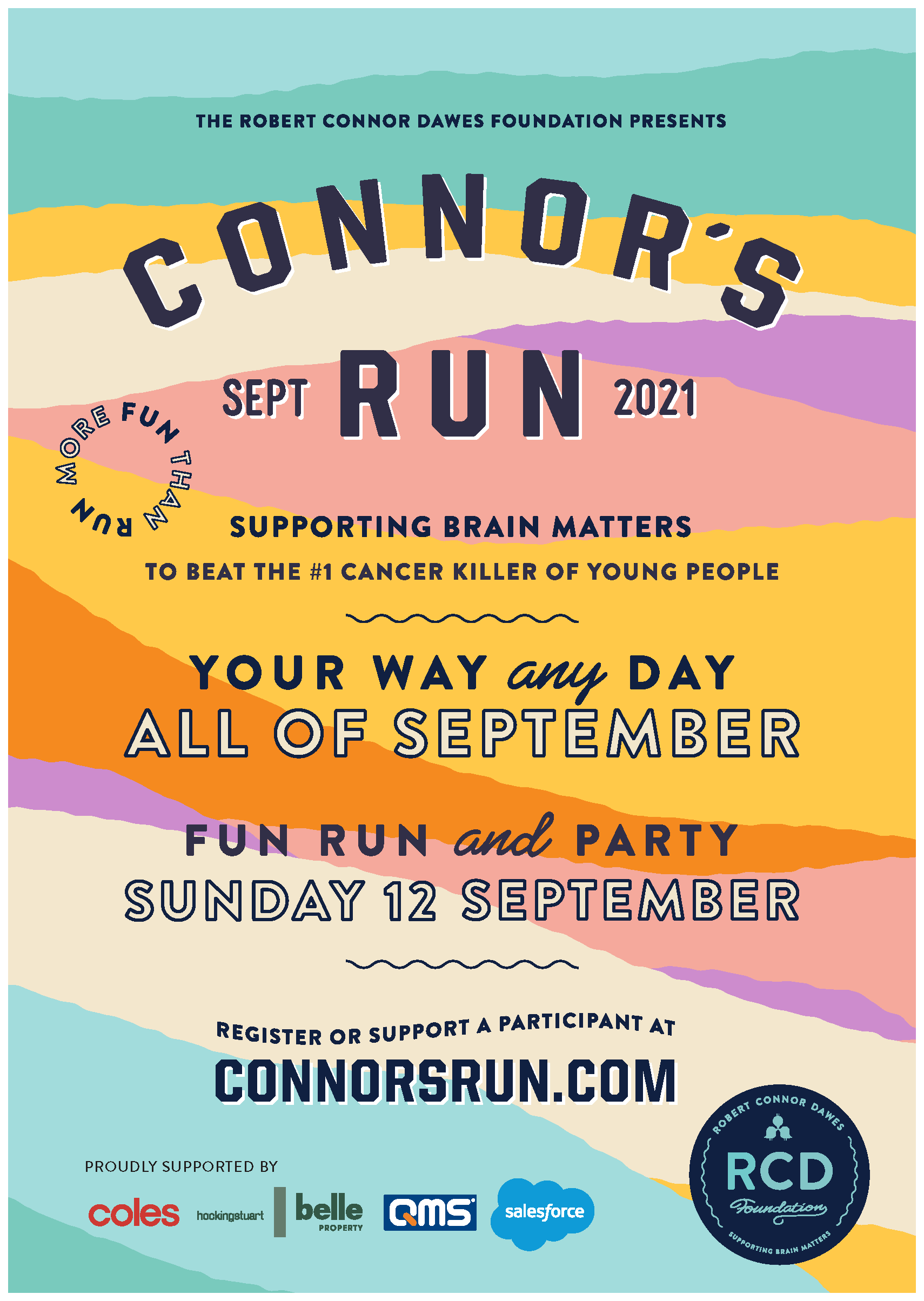 4000 participants raised
$2,080,000
2022
4500 participants raised
$2,060,000
How Connor's Run Started
In September 2011, 17-year-old Robert Connor Dawes ran from his home in Sandringham to the boatsheds on the Yarra. He'd started his training for the upcoming rowing season early, as he wanted to make the Brighton Grammar 1st VIII. Not loving running, he did the 18.8 km because he was determined to be the best he could be. Little did he know that in his head was more than fierce determination: there was also a tumour growing. Connor had unknowingly begun his battle.
Two months later, Connor was diagnosed with an anaplastic ependymoma. Major surgery resulted in loss of movement to his right side, impaired vision and severe short term memory loss. His body was broken, but his mind was not. He was determined to improve and spent hours each day on his physical and mental rehabilitation. Intense radiation and later chemotherapy followed. But throughout all this, Connor never stopped smiling. He stayed positive, philosophical and true to his mantra: "I will be awesome".
At school, his friends sold t-shirts and wristbands with his name and the phrase "Aeternum Fortis" meaning "Eternal Strength". It reflected Connor's inspiring spirit as he battled through every adversity coming his way. Now, Aeternum Fortis is our eternal reminder of the amazing person he was and the gifts he left us. Connor's Run is your chance to show your support. It's 18.8 km that Connor ran on that day, and coincidentally his life's length. Instead of 10 km, we chose his birthday 9th June (9.6 km). Participants also write a positive affirmation on their bib, inspired by Connor's very own declaration to his yoga instruction during his treatment, that he "will be awesome".
Over the past 10 years, Connor's Run has evolved into Australia's biggest event for paediatric brain cancer with thousands of young runners now participating in the event. Many come back year after year, each time generating more funds raised and more attention for the #1 cancer killer in young Australians. The event has been covered on Channel 7 and 9 news, as well as The Today Show and Weekend Sunrise. The Robert Connor Dawes Foundation has garnered support from a number of high-profile ambassadors like Olympian James Tomkins, actress Lisa McCune, athlete Tamsyn Lewis Manou and comedian Dave Hughes.
Join us again for the 11th annual Connor's Run in Melbourne, Sunday September 10, and Your Way Any Day throughout the month of September.